Islamic Society of Delaware
Tuesday 23rd of September 2014
ISD Quick Donation
Make an instant PayPal donation.


Thank you for your random act of kindness.
ISD Events
Sunday, 21 September 2014 03:47
Islamic Society of Delaware is pleased to announce that Karate and KickBoxing classes will be held at the Masjid, please click on the flyer for more information and registration @ Karate & KickBoxing Registration Form: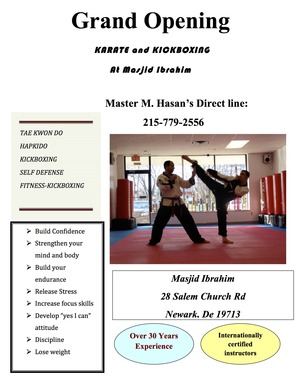 ISD Events
Sunday, 21 September 2014 03:44
Islamic Society of Delaware is sponsoring a six hours Defensive Driving  course on October 18th, 2014 between 9 AM to 3 PM. This Class can be taken for Basic or Advanced certificate and is limited to the first 25 paid participants.
Cost is $20.00, AARP Members Pay $15
 Class starts promptly!
 Registration Deadline: Wednesday October 15
 Class Signup sheet is available at Masjid Ibrahim.
 For more details or to signup please contact
Br. Abdullah Muhammed: 302-762-3184
Br. Nasir Khan: 302-290-7098
ISD Events
Sunday, 21 September 2014 03:41
A mini Eid Bazaar will be held on Saturday September 27 from 2:00 to 8:00 PM for Sisters to do their Eid-al-Adha shopping. 
For information please send email to This e-mail address is being protected from spambots. You need JavaScript enabled to view it .
ISD Events
Sunday, 21 September 2014 03:36
CAIR will be offering an anti-bullying workshop for parents and other adults interested in learning about anti-bullying techniques and the rights of students on Sept. 27th at ISD.
 The presenter will be Ryan Tack-Hooper, CAIR staff attorney.   CAIR's workshop focuses on educating the public on the rights of students, how to identify and report school bullying and harassment, and how to build a positive American Muslim identity.
 In CAIR's adult version of the workshop, parents and other guardians learn: ·       
 - What legal rights children have in schools       
 - What to tell children about how to respond to bullying
 - What to do when a child tells them about bullying·       
 - Why to take bullying seriously
 - How to encourage children to empower and educate themselves
The Community
Sunday, 14 September 2014 10:24
Shiekh Abdel Hadi will be conducting a comprehensive workshop on the Rites and Rituals of the Hajj this Sunday September 14 at 5:00 PM.  In this information packed workshop, Shiekh will cover the procedures in detail on how to prepare, plan, and perform Hajj. All community members especially those who have intention to perform Hajj are invited to attend the workshop
The Community
Monday, 08 September 2014 23:25
Assalamu-alaikum 
Below are the financial statements for the ISD  for the year of 2014;  Jazakallah Khair.
 July 2014
«

Start

Prev

1

234NextEnd »
Page 1 of 4
Quran Verse
Verse of the day:
Such in truth are the Believers: they have grades of dignity with their Lord, and forgiveness, and generous sustenance: 8:4
Community Sponsors
Prayer Times
Who's Online
We have 8 guests online