Islamic Society of Delaware
Wednesday 04th of March 2015
ISD Quick Donation
Make an instant PayPal donation.


Thank you for your random act of kindness.
Friday, 06 February 2015 00:16
An Evening of PEACE AND SOLIDARITY
ISD Event to Honor UNC Victims has been postponed due to bad weather
to 

Sunday, February 22 at 1:30 pm
NOTE  - This event is postponed to Sunday , February 22nd at 1:30 PM
Islamic Society of Delaware Cordially invites all community members and Interfaith partners to a Service of Remembrance and Mourning for the victims within our borders and beyond
- Victims of University of North Carolina (Deah, Yusor & Razan)
- Aid worker from Arizona, Kayla Mueller
- All victims around the world who are suffering from a similar pain
Feed Their Legacy - ISD Canned Food Drive
February 20  through February 28
On February 10, Deah Barakat (23), his wife Yusor Abu-Salha (21) and her sister Razan Abu-Salha (19) were found shot and killed in their apartment in Chapel Hill, North Carolina. Their loss was devastating not only to their community in North Carolina but to the nation, as these three American Muslim activists continuously gave selflessly to their community and were exemplar models. Deah's last Facebook post, showed him feeding homeless people in North Carolina. To honor and continue their legacy of feeding those in need, there will be a National Food Drive where all collected canned food donations will be given to the hungry and homeless on behalf of Deah, Yusor & Razan. This is a nationwide effort organized and endorsed by a collective of American Muslim organizations. We aim to #FeedTheirLegacy by feeding those in need.
ISD will be join the "Feed Their Legacy" National Campaign and collect Canned Food to be donated during the two Monthly Food Drives.

We
are requesting everyone to bring Canned Food for donation

tomorrow

during the Interfaith Program. ISD will continue to collect canned food through the end of the month.
ICNA Relief/ISD Monthly Food Drives for the Needy and Homeless


Two Food Drives on

Saturday February 28
ISD and ICNA Relief Volunteers will hold two food drives on


Saturday

Fedbruary 28, Insha' Allah.
First Food Drive: At 

2:15 pm

at Intersection of Front and Lombard 
Second Food Drive: At Intersection of 4th and Rodney street
We will dedicate this months food drives to Commemorate the "Feed Their Legacy" Campaign in Honor of the UNC Muslim Victims as they use to do food drives for homeless people. All the canned food collected through the end of the month will be donated along with hot meal of pizza and fried chicken.
Events Organized by ISD to Honor UNC Victims
1) Islamic Society of Delaware  is making arrangements to visit the families of UNC victims and offer our condolences on

Saturday February 14

. If anyone wishes to join, please contact Dr. Saleh at

(801) 502-8410
(801) 502-8410

. We will be leaving right after Fajr Prayer
this Saturday

from Masjid Ibrahim.
2) Islamic Society of Delaware will arrange special prayers for the victims and their families during the

Friday

Prayer Service on February 13. We are requesting people of all faiths to unite, and come show support and solidarity during this difficult time.
3) On

Saturday, February 21st at 6:00 pm

, Islamic Society of Delaware will arrange a event to remember the UNC victims and Kayla Mueller, an American Aid Worker from Arizona, who lost their lives as a result of senseless violence and heinous crimes. People form different walks of life will be invited to attend along with common public.
New Friday Prayer Timings at Masjid Ibrahim

Starting Friday February 13
Insha'Allah, the Friday Prayer timings will change starting Friday February 13. We request community members to actively participate in the 2nd Prayers and help ease the traffic and congestion on Salem Church Rd. We advise everyone to move your cars quickly from the Masjid and German Club parking after the 1st Prayers and make room for the brothers and sisters for the 2nd Prayers.
What's Happening at the School this week
A partnership pet project begins! The 2nd and 5th grade join together to host a home for their new pet, Clover the turtle! 5th graders will care for, feed and clean Clovers aquatic habitat. 2nd graders are enjoying their new green friend. The two classes will work together to create a loving environment for Clover. Pictures to follow!
Kindergarten held their first ever Hot Chocolate Social. Students and parents came together and enjoyed sweets, hot cocoa and great company! A big thank you to Sr. Khalilah for all her planning and hard work to make a such a memorable event for our kindergartens!
We welcome the University of Delaware teachers college into our math classes throughout the school.They will observe, aid, guide and teach our staff in the ways to connect our students in the skills they need in order to excel in mathematics. We are very excited for their new and innovative ways of making the Delaware State Standards an implementable reality.
Chuck E Cheese Family Night!
Mr. Chuck E Cheese will be at IAD! He will stop by, hand out stickers for free tokens. Please join us afterwards at the Wilmington location for a night designated to help fund this years Civics Bee. 15% of all proceeds will be given back to our school. Come out, show your support and feel free to invite family and friends!
More news to come next week...
Thursday, 22 January 2015 21:52
In accordance with the decision made by the ISD Board last year, an Incidents Report has been completed for certain incidents that occurred in the last couple of years.
This report has been prepared by the Incidents Report Committee consisting of 3 sincere senior members of our community: Dr. Saleem Khan, Br. Tufail Chaudhri, and Br. Yahia Hashem. The Committee had complete independence in defining it's procedures and form and contents of the report.
We greatly appreciate the efforts and the dedication of the Committee members to help complete this important task. May Allah  (SWT) bless them and their families with the best rewards.
The Incident Report can be viewed HERE
Friday, 09 January 2015 11:28
MIST 2015 Interest Meeting
Sunday January 11 at 12:00 PM
The first 

MIST

interest meeting at the Islamic Society of Delaware/Masjid Ibrahim will be on:
Sunday, January 11th at NOON

!
Please be on time. We will get started with the presentation right away. This meeting will be relatively short (about an hour), and we will follow up with a registration meeting.
*Any college student interested in volunteering to help out the Delaware teams should also attend the meeting.

Hope to see you all and many new and OLD faces on 

Jan. 11

, In sha Allah! Make sure to bring your friends and get new people hype about 

MIST

!

Questions? Contact Delaware's registration coordinators:
ISD Events
Sunday, 21 September 2014 03:47
Islamic Society of Delaware is pleased to announce that Karate and KickBoxing classes will be held at the Masjid, please click on the flyer for more information and registration @ Karate & KickBoxing Registration Form: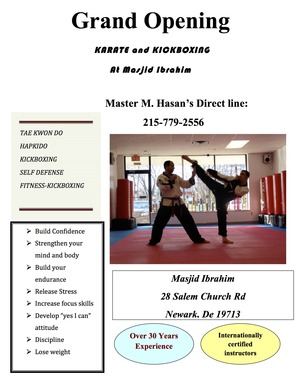 ISD Welcome Messages
Saturday, 06 September 2014 01:37
ISD Education Committee is please to announce the start of Youth Leadership Program for year 2014-15. Targeted towards high school students, this interactive workshops style program focuses on transforming our youth to successful Leaders by developing their character under the guiding principles of Islam. Separate workshops will be conducted for brothers and sisters every Sunday.
The Community
Saturday, 06 September 2014 01:32
Quranic Academy of Delaware Quran Reading Program started on Saturday August 23. Registration is still open and limited seats are available in all levels.
 Please visit Masjid Ibrahim on Saturday after 9:00 AM to register.
«

Start

Prev

1

2NextEnd »
Page 1 of 2
Quran Verse
Verse of the day:
Nor (is there blame) on those who came to thee to be provided with mounts, and when thou saidst, "I can find no mounts for you," they turned back, their eyes streaming with tears of grief that they had no resources wherewith to provide the expenses. 9:92
Community Sponsors
Prayer Times
Who's Online
We have 5 guests online
localdosting