Islamic Society of Delaware
Sunday 29th of March 2015
ISD Quick Donation
Make an instant PayPal donation.


Thank you for your random act of kindness.
Friday, 06 February 2015 00:16
Community Health and Wellness Fair at ISD
Saturday March 28, 2015 @ 9:00 AM
Islamic Society of Delaware would like to invite our community members to a free health and wellness clinic day scheduled for Saturday March 28, 2015, 9:00 am to 4:00 pm


Many Doctors and health professionals, with support staff and equipment from their offices, will offer free health service to our community members.  If you don't have health insurance, this is a good opportunity to meet the health professional from our community, check your blood pressure, get screened for diabetes or Cholesterol, or even get free tips to stay healthy.  If you have a doctor you can still consult to see if you are using the best medications available or if there are better ones you can use. For the community youth, if you are interesting in a career in health and medical fields you can also get the information you need from these health professionals.

In addition to the free health screening and lab work, there will be workshops and lectures to help our community stay healthy and be better prepared for any emergency.


ISD Health & Wellness Fair 2015 Activities
Blood pressure checks
Blood sugar checks
EKG and Echocardiogram
Chiropractic check & information
Diabetic education/awareness
Emergency preparedness information
Karate for fitness – information on classes & demonstrations
Lab draws for Cholesterol
Pharmacy consultants
Walk for Wellness program information
Weight loss & healthy eating information
CPR Training information

We encourage all community members, especially the youth, to volunteer and participate in this this event and take advantage of this opportunity to meet and consult with our community health professionals.  Please come fast and ready for blood test & health screening   

If you like to participate or have questions about this event, please contact:
Hassan Mageid: 302-588-5516 or Nasir Khan:  302-290-7098


February 2015 Financial Statements are Available on ISD Website

Islamic Society of Delaware monthly financial statements for the month of February have been posted on the ISD Website under the Financial Statements Page. Please click on the following link to view the reports:

ISD Monthly Financial Statements
Civics Bee @ IAD Held on Wednesday March 18
What a day to remember! IAD students from grades 4 through 8 really did an amazing job! They finished all 125 questions, causing our host, US Attorney for Delaware, Charles M. Oberly III to come up with tie breaker questions for our last 8 finalists! We are so proud of all those students that practiced, learned and competed in this year's event. A big thank you to the New Castle County Executive, Mr. Tom Gordon for joining us! We also extend a big thank you to Br. Mashour Awwad for accepting our invitation and coming out to show his support of our children. It was greatly appreciated by all. The children really and truly made us all very proud.
The top finalists included:
1st Place: Shems AlZahrani  $350.00
2nd Place: Samreen Ahmed $250.00
3rd Place:  Amira Hussin $150.00
IAD PreK School Spring Carnival -

March 24-26
Day 1: PreK 3, PreK 4, Kindergarten
Tuesday

will kick off a three-day school wide carnival hosted by the PreK 3 Prek 4 and Kindergarten classrooms. Students will get to enjoy an array of age appropriate games and even pony rides! "Like Us" on Facebook for the most up-to-date information about this event! The event will cost $5 per student and all proceeds will be used by the PreK 3, PreK 4 and Kindergarten classrooms for classroom activities and supplies. Additional snacks and goodies will be an additional fee.
Day 2, Grades 1-3
Another day of fun and games, pony rides and prizes. 

10am to 1pm

students will enjoy a different set of age appropriate games and activities. Fee is also $5 per students, snacks and sweets are additional. Come out and enjoy the day!
Day 3: Grades 4-8
Another set of activities for the older kids on the final day of the PreK Carnival! Students will enjoy a variety of activities made just for them. Details to follow! $5 per student, snacks and sweets are extra. All proceeds will go to the PreK/KG classroom enhancement program.

Upcoming Events at ISD

Please mark your calendar for the following important events at ISD. More details will be available in upcoming ISDConnect.

1) Br. Hamza Andreas Tzortzis - Sunday April 12
ISD is pleased to announce that international renowned speaker Br. Hamza Andreas Tzortzis will be at ISD on Sunday April 12 for an afternoon of lecture and discussion.


Br. Hamza Andreas Tzortzis is an international public speaker on Islam, a writer, lecturer and intellectual activist. He is particularly interested in Islam, politics, western and Islamic philosophy.

Br. Hamza is a regular speaker at UK University campuses, and has also travelled the world extensively to deliver lectures, most notably in the USA, Malaysia, Canada and Lebanon. Br. Hamza has authored a number of Islamic publications, including the popular website www.theinimitablequran.com as well as serialising number of articles on his popular blog. Br. Hamza is one of the main initiators of the contemporary emergence of Muslim public debaters and speakers using western and Islamic philosophy to defend and explain Islam. Br. Hamza is the Head of iERA Research and Lecturer for iERA.

Click here to find him on facebook and follow him on twitter.


2) Christina River Cleanup - Saturday April 18
Join ISD volunteers for the Annual Christina River Cleanup on Saturday, April 18, 2015.  We will meet at the Masjid at 8:00 AM and go together to the clanup site together, Insha' Allah.
Thursday, 22 January 2015 21:52
In accordance with the decision made by the ISD Board last year, an Incidents Report has been completed for certain incidents that occurred in the last couple of years.
This report has been prepared by the Incidents Report Committee consisting of 3 sincere senior members of our community: Dr. Saleem Khan, Br. Tufail Chaudhri, and Br. Yahia Hashem. The Committee had complete independence in defining it's procedures and form and contents of the report.
We greatly appreciate the efforts and the dedication of the Committee members to help complete this important task. May Allah  (SWT) bless them and their families with the best rewards.
The Incident Report can be viewed HERE
Friday, 09 January 2015 11:28
MIST 2015 Interest Meeting
Sunday January 11 at 12:00 PM
The first 

MIST

interest meeting at the Islamic Society of Delaware/Masjid Ibrahim will be on:
Sunday, January 11th at NOON

!
Please be on time. We will get started with the presentation right away. This meeting will be relatively short (about an hour), and we will follow up with a registration meeting.
*Any college student interested in volunteering to help out the Delaware teams should also attend the meeting.

Hope to see you all and many new and OLD faces on 

Jan. 11

, In sha Allah! Make sure to bring your friends and get new people hype about 

MIST

!

Questions? Contact Delaware's registration coordinators:
ISD Events
Sunday, 21 September 2014 03:47
Islamic Society of Delaware is pleased to announce that Karate and KickBoxing classes will be held at the Masjid, please click on the flyer for more information and registration @ Karate & KickBoxing Registration Form: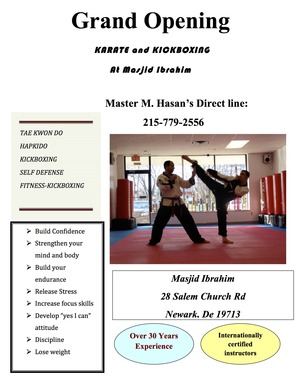 ISD Welcome Messages
Saturday, 06 September 2014 01:37
ISD Education Committee is please to announce the start of Youth Leadership Program for year 2014-15. Targeted towards high school students, this interactive workshops style program focuses on transforming our youth to successful Leaders by developing their character under the guiding principles of Islam. Separate workshops will be conducted for brothers and sisters every Sunday.
The Community
Saturday, 06 September 2014 01:32
Quranic Academy of Delaware Quran Reading Program started on Saturday August 23. Registration is still open and limited seats are available in all levels.
 Please visit Masjid Ibrahim on Saturday after 9:00 AM to register.
«

Start

Prev

1

2NextEnd »
Page 1 of 2
Quran Verse
Verse of the day:
Allah turned with favor to the Prophet, the Muh�jirs, and the Ans�r,- who followed him in a time of distress, after that the hearts of a part of them had nearly swerved (from duty); but He turned to them (also): for He is unto them Most Kind, Most Merciful. 9:117
Community Sponsors
Prayer Times
Who's Online
We have 7 guests online