Islamic Society of Delaware
ISD Quick Donation
Make an instant PayPal donation.


Thank you for your random act of kindness.
The Community
Saturday, 22 February 2014 10:24
MIST Transportation Update


Seven Delaware teams have been confirmed for MIST Philly 2014!  We have arranged transportation for the competitions at Temple University, Philadelphia, PA on Saturday and Sunday, March 29th and 30th. Seats will be available on first come first serve basis. The bus fee is $20 per PERSON to use the transportation for Saturday and Sunday.  if you do not use our transportation, you will be responsible for your own transportation both days. 
 Please contact the MIST coocordinators to confirm your bus seat.
 
MIST is all set for the weekend of March 28th-30th at Temple University, Philadelphia so it's time to start preparing if you haven't already.
 
Check out the MIST website and rulebook at getmistified.com for study tips and ideas on how to prepare for your competitions. If you have any specific questions, feel free to email one of the registration coordinators or philadelphia@getmistified. com. Make sure to like MIST Philly on Facebook to stay updated! Start preparing for your competitions, good luck :)
ISD Events
Saturday, 22 February 2014 10:18
Assalam-alaikum
 
The Quran was revealed to the Messenger of Allah (SAW) with Tajweed. Then the Messenger of Allah (SAW) taught it to his companions with Tajweed, and they taught their students likewise. Up to this day, the scholars of Tajweed teach the Quran as it was taught by the Messenger (SAW).
Tajweed Classes for brothers are offered at Masjid Ibrahim every week. All brothers interested in learning to read Quran with Tajweed are welcome to join Insha'Allah. Here are the details
Friday after Salat al Isha by Br. Salim
Thursday after Salat al Maghrib by Br. Shohaib

The Community
Tuesday, 04 February 2014 21:50
ISD 2014 Calendars are Available for Purchase
ISD  Calendars for the Year 2014 are available. Theme of the calendar this year is "Islam Around the World". Each day of the Calendar has the Iqama Timings at Masjid Ibrahim for the whole year. In addtion, important Islamic days and public holidays are marked for your convinience. The calendar also includes advertisements from local businesses. ISD 2014 Calendars are available at Masjid Ibrahim, Please contact any ISD board member for purchase.
 Cost:  1 Calendar for $7.00
           2 Calendars for $10.00
 Please buy for your family and friends and support ISD.
Jazakallah Khair.
ISD Events
Monday, 23 December 2013 18:29
A time will come when weeks will pass by like days and days will pass by like hours…..
It is compulsory upon every believer who wants to know about a changing world devastated by economic, spiritual, and social downfall to learn what the future holds for them and how to save their  faith in these trying times before the coming of the Final Hour.
Signs of the Final Hour is an weekend long seminar regarding the signs of the day of judgement. The lectures will be conducted by renowned Sheikh and Mufti from Darul Ullom Al-Madania, Buffalo New York
After hearing these lectures you will have an in depth understanding of the signs of the final hour
Date: January 31st - February 2nd, 2014 ( NOTE-->TIME HAS CHANGED)
For more information please click on the flyer below.
ISD Events
Saturday, 05 October 2013 00:11
ISD Education Committee is please to announce a brand new exciting program for high school and college students to be held every Sunday at ISD. The interactive workshops will focus on transforming our youth to successful Leaders of tomorrow by developing their character under the guiding principles of Islam. The workshops are designed for high school and college students. Separate workshops will be conducted for brothers and sisters every Sunday.

Please see attached flyer for details.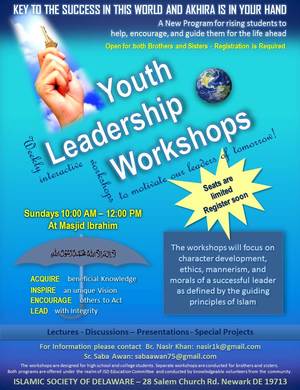 Quran Verse
Verse of the day:
It is We Who created you and gave you shape; then We bade the angels prostrate to Adam, and they prostrated; not so Iblis; He refused to be of those who bow down. 7:11
Community Sponsors
Prayer Times
Who's Online
We have 23 guests online

Powered by Joomla!. Designed by: eshop hosting hosting Valid XHTML and CSS.

asd