Islamic Society of Delaware
Friday 24th of October 2014
ISD Quick Donation
Make an instant PayPal donation.


Thank you for your random act of kindness.
The Community
Friday, 26 September 2014 01:42
Islamic Society of Delaware monthly financial statements for the month of August have been posted on the ISD Website under the Financial Statements Page. Please click on the following link to see the reports: ISD Monthly Financial Statements
ISD Events
Monday, 13 October 2014 22:10
Please bring a dish to share and join us in welcoming the Hujjaj on Saturday October 18 at 6:00 PM
ISD Events
Monday, 13 October 2014 22:05
Islamic Society of Delaware is sponsoring a six hours Defensive Driving course on October 18th, 2014 between 9 AM to 3 PM. This Class can be taken for Basic or Advanced certificate and is limited to the first 25 paid participants.

Cost is $20.00, AARP Members Pay $15
Class starts promptly!

Registration Deadline: Wednesday October 15
You must pay by the registration deadline to attend the class

Class Signup sheet is available at Masjid Ibrahim.

For more details or to signup please contact
Br. Abdullah Muhammed: 302-762-3184
Br. Nasir Khan: 302-290-7098
The Community
Monday, 13 October 2014 22:02
During Ramadan Imam Shiekh Abdelhadi asked, "Who would participate in a campaign to donate $50 a month?". By show of hand majority of the community showed their approval of such campaign.

ISD is pleased to introduce "$50 a Month Campaign". With this initiative we're hoping to cover the monthly Masjid operation expense of approximately $15,000/month, therefore eliminate or minimize the need for fund-raising for this purpose.

$50 a month is merely the cost of one cup of coffee a day.
Cup of coffee $1.70 X 30 = $51.00/month.

For this campaign to be successful, we will need participation from at least 350 community members. Insha' Allah, with help and blessing from Allah (SWT) and participation from the community we would like achieve our objective of signing up 350 individuals by the end of October 2014.

Please use attached "Monthly Automatic Donation Form" to sign up for this campaign.

May Allah (SWT) accept your continued support and contribution to the house of Allah (SWT).

Monthly Automatic Donation Form
General
Friday, 26 September 2014 01:44
Please click on the image to read the exciting newsletter from IAD.
ISD Events
Sunday, 21 September 2014 03:47
Islamic Society of Delaware is pleased to announce that Karate and KickBoxing classes will be held at the Masjid, please click on the flyer for more information and registration @ Karate & KickBoxing Registration Form: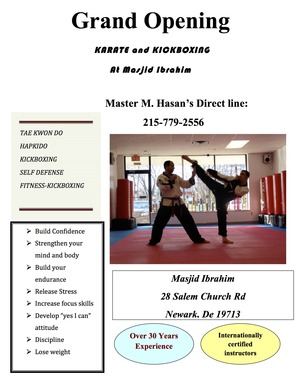 «

Start

Prev

1

23NextEnd »
Page 1 of 3
Quran Verse
Verse of the day:
In order that Allah may separate the impure from the pure, put the impure, one on another, heap them together, and cast them into Hell. They will be the ones to have lost. 8:37
Community Sponsors
Prayer Times
Who's Online
We have 23 guests online